NEJZNÁMĚJŠÍ FILMOVÉ A MUZIKÁLOVÉ MELODIE
Sobota 21.4.2018 - 18:30 h.
KD METROPOL ČESKÉ BUDĚJOVICE - MALÁ SCÉNA
možno zakoupit vstupenky od 7.11.2017 KD METROPOL:
http://vstupenky.cbsystem.cz/cbsystem/standard/hall/id-15511?
KLÁROVO KVARTETO:
Tom Klár – I. housle, Pavel Hrda - II. housle, Tomáš Duda – viola, Václav Fleissig – violoncello
PROGRAM:
Martin Botcher : VINNETOU
Malcolm Arnold : Colonel Bogey - MOST PŘES ŘEKU KWAI
Elmer Bernstein : SEDM STATEČNÝCH
Ennio Morricone : TENKRÁT NA ZÁPADĚ
Frank Churchill - With a Smile and a Song - SNĚHURKA
Alan Silvestri : FORREST GUMP
B. Bacharach: BUTCH CASSIDY A SUNDANCE KID
James Horner : My Heart will go out - TITANIC
Herman Hupfeld : CASABLANCA - As time goes
John Lennon: YESTERDAY
A.L.Webber : Don´t cry for me Argentina - EVITA
A.L. Webber: Co je na tom zlého - JESUS CHRIST SUPERSTAR
ABBA : Mamma mia
G. Gates: Unchained Melody
BEATLES : Hey Jude
David Arnold : Die another Day - JAMES BOND
Brian Adams : I do it for You - ROBIN HOOD
Ray Orbison : PRETTY WOMAN
Lalo Shifrin : MISSION IMPOSSIBLE

* změna programu vyhrazena*.
..
ČESKÉ BUDĚJOVICE
KULTURNÍ DŮM METROPOL
Sobota 25.11.2018 - 18:30 h.
VYPRODÁNO
10-členný Swing big Band PSO
pořadem provází, diriguje a zpívá Václav Vomáčka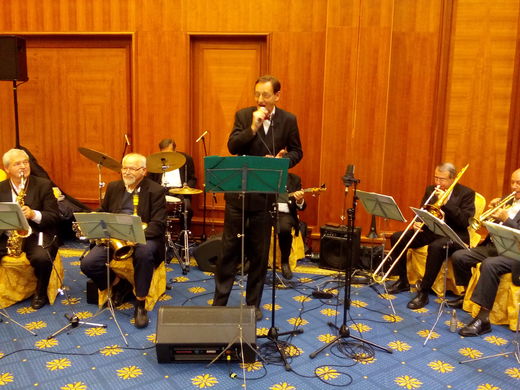 PROGRAM:
Irving Berlin Alexander´s Ragtime Band
George Gershwin Summertime
Duke Ellington Caravan
Louis Armstrong What´s A Wonderfull World
J.Garland/G.Miller In The Mood
H.Warren/G.Miller Chattanooga Choo Choo
H.Warren/G.Miller I know why
George Gershwin Embraceable You
Eldo di Lazzaro E Viva Espaňa
G.Marks/G.Miller All Of Me
Arthur Johnston Penies From Heaven
H.Warren/G.Miller I Know Why
F.W.Meachum/G.Miller American Patrol
John Kander New York, New York
S.Wyche/M.Watts All Right, O.K.
Jerry Hermann Hello Dolly
..